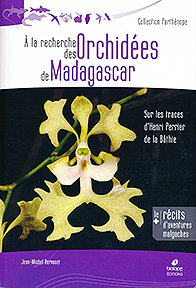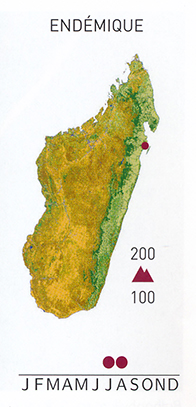 Madagascar, the biggest island in the Indian Ocean, is known for the unique flora and fauna with many endemic species and about 900+ orchid species. This book, a homage to Henri Perrier de la Bâthie, presents more than 370 orchid species from Madagascar. Perrier de la Bâthie discovered a majority of the actually known Malagashian orchid species.
We first read usual introductory pages with a 'Préface' by Johan Hermans (p. 12-13), a note about the French orchid society 'Société Française d'Orchidophilie' (SFO) and Madagascar (p. 14-15), some words about Henri Perrier de la Bâthie (p. 16) and 'Perspectives for the Future' (p. 17).
The chapter 'Généralités' (p. 19-61) informs the readers about the the specific nature on Madagascar ('Madagascar, une nature à part': p. 20-37), some adventures by members of the French orchid society SFO ('Aventures malgaches': p.38-47) and about Henri Perrier de la Bâthie as naturalist and vagabond (p. 48-61).
In the second chapter 'Monographies' with a short explanation how to read the graphics ('Présentation des monographies': p. 64-65) some 370+ orchid species are presented alphabetically (p. 66-485): genus and species name (following the World checklist of selected plant families), synonyms, short description of each species, some comments and some observations. Although the distribution maps are small, they give an idea about the distribution. Other graphics such as flowering time and altitude and the mention 'endémique' when a particular species is endemic are certainly useful.
This book ends with a list of journeys of the 'Société Française d'Orchidophilie' in Madagascar, a note about the protection of nature in Madagascar, acknowledgements, an interesting bibliography and an index of scientific names.
Conclusion.
In my opinion this book is an interesting informative addition to other books about the orchids of Madagascar. Photos of several orchid species are published here for the first time ever including many terrestrial species. Their quality is good to very good but maybe their size is rather small for perfect determination in the field. I think this book is not intended to serve as field guide, it could be used for this purpose. Even though the purpose of this edition is to inform, after good reading, everyone who wishes to grow Malagashian orchids will find here enough useful information to have good results.
top

Madagascar, la plus grande île de l'océan Indien, est connue pour sa flore et sa faune uniques avec des nombreuses espèces endémiques et environ 900+ espèces d'orchidées. Ce livre, hommage à Henri Perrier de la Bâthie, présente plus de 370 espèces d'orchidées de Madagascar. Perrier de la Bâthie a découvert la majorité des espèces d'orchidées malgaches connues.
Nous lisons d'abord les pages d'introduction habituelles : une 'Préface' de Johan Hermans (p.12-13), une note sur la société française d'orchidées 'Société française d'Orchidophilie' (SFO) et Madagascar (p.14-15), quelques mots sur Henri Perrier de la Bâtie (p.16) et 'Perspectives d'avenir' (p.17).
Le chapitre 'Généralités' (p.19-61) informe les lecteurs sur la spécificité de Madagascar ('Madagascar, une nature à part' : pages 20-37), quelques aventures des membres de la 'Société française d'Orchidophilie' ('Aventures malgaches' : p.38-47) et d'Henri Perrier de la Bâthie comme naturaliste et vagabond (p.48-61).
Dans le deuxième chapitre 'Monographies', avec une courte explication comment lire les graphiques ('Présentation des monographies': p 64-65), quelques 370+ espèces d'orchidées sont présentées par ordre alphabétique (p.66-485): genre et nom de l'espèce (en suivant la 'World checklist of selected plant families'), synonymes, brève description de chaque espèce, quelques commentaires et quelques observations. Bien que les cartes de distribution soient petites, elles donnent une idée de la distribution. D'autres graphiques tels que le temps de floraison et l'altitude et la mention 'endémique' quand une espèce particulière est endémique sont certainement utiles.
Ce livre se termine par une liste des voyages de la Société Française d'Orchidophilie à Madagascar, une note sur la protection de la nature à Madagascar, des remerciements, une bibliographie intéressante et un index des noms scientifiques.

Conclusion.
A mon avis, ce livre est un complément informatif intéressant à d'autres livres sur les orchidées de Madagascar. Des photos de plusieurs espèces d'orchidées sont publiées ici pour la première fois, y compris de nombreuses espèces terrestres. Leur qualité est bonne à très bonne mais peut-être leur taille est plutôt petite pour une parfaite détermination sur le terrain. Je pense que ce livre n'est pas destiné à servir comme guide de terrain, il pourrait être utilisé à cette fin. Même si le but de cette édition est d'informer, après une bonne lecture, tous ceux qui aiment cultiver des orchidées malgaches trouveront ici suffisamment d'informations utiles pour avoir de bons résultats.
top

Madagaskar, het grootste eiland in de Indische Oceaan, staat bekend om de unieke flora en fauna met veel endemische soorten waaronder ongeveer 900+ orchideeënsoorten. Dit boek, een eerbetoon aan Henri Perrier de la Bâthie, presenteert meer dan 370 orchideeënsoorten uit Madagascar. Perrier de la Bâthie ontdekte een meerderheid van de gekende Malagassische orchideeënsoorten.
We lezen eerst de gebruikelijke inleidende pagina's met een 'Préface' van Johan Hermans (p.12-13), een notitie over de Franse orchideeënvereniging 'Société Française d'Orchidophilie' (SFO) en Madagascar (p.14-15), sommige woorden over Henri Perrier de la Bâthie (p.16) en 'Perspectives for the Future' (p.17).
Het hoofdstuk 'Généralités' (p.19-61) informeert de lezers over het specifieke karakter op Madagascar ('Madagascar, une nature à part': p. 20-37), enkele avonturen die leden van de Franse orchideeënvereniging SFO beleefden ( 'Aventures malgaches': p.38-47) en over Henri Perrier de la Bâthie als naturalist en vagebond (p.48-61).
In het tweede hoofdstuk 'Monografieën', met een korte uitleg over hoe je de grafische afbeeldingen interpreteert ('Présentation des monographies': p.64-65) worden ongeveer 370+ orchideeënsoorten alfabetisch voorgesteld (p.66-485): geslacht en soortnaam (naar aanleiding van de 'World checklist of selected plant families'), synoniemen, korte beschrijving van elke soort, enkele opmerkingen en enkele observaties. Hoewel de distributiekaarten klein zijn, geven ze een idee over de distributie. Andere grafieken zoals bloeitijd en hoogte en de vermelding 'endémique' wanneer een bepaalde soort endemisch is, zijn zeker nuttig.
Dit boek eindigt met een lijst van reizen van de 'Société Française d'Orchidophilie' in Madagaskar, een notitie over de bescherming van de natuur in Madagascar, dankbetuigingen, een interessante bibliografie en een index van wetenschappelijke namen.

Conclusie.
Naar mijn mening is dit boek een interessante informatieve aanvulling aan andere boeken over de orchideeën van Madagaskar. Foto's van verschillende orchideeënsoorten worden hier voor het eerst gepubliceerd, inclusief vele soorten landdieren. Hun kwaliteit is goed tot zeer goed, maar misschien is hun formaat eerder klein voor perfecte determinatie in het veld. Ik denk dat dit boek, alhoewel niet bedoeld als veldgids, het voor dit doel gebruikt kan worden. Het doel van deze editie is om te informeren, toch zal iedereen die de Malagassische orchideeën wil kweken, na een goede lezing, hier genoeg bruikbare informatie vinden om goede resultaten te behalen.
top